In this post, we are going to review Zen Habitats 4'x2'x2′ Reptile Enclosure. The review below is our honest, unbiased opinion and comments from the users.
I have been keeping and breeding bearded dragons for many years. And during all these years I have used and tested many reptile cages. The Zen Habitat 4'x2'x2′ Reptile Enclosure piqued my interes because they use a different approach in making the enclosures.
The Zen Habitats 4'x2'x2′ Wood Panel Reptile Enclosure is designed for reptiles that require humidity levels of 50 percent or less, such as bearded dragons, uromastyx, and other desert lizards and snakes. High humidity can damage the wood panels.
For high humidity, Zen Habitat offers a simlar size and design enclosure made from PVC panels. This PVC model is suitable for both desert and trophical reptiles. It also supports under tank heater needed for many reptiles.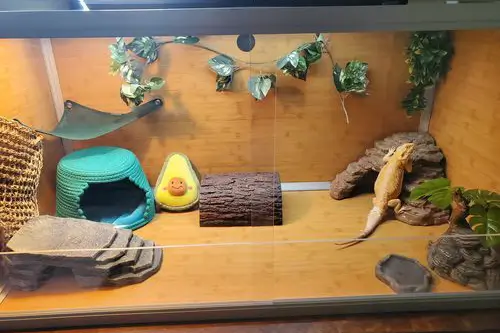 Zen Habitat Enclosure Features
120-gallon space
Lightweight
Opaque walls designed and bamboo constructed to reduce bearded dragon anxiety
Galvanized screen top (made of steel so, your cat can't break it)
Removable sliding doors for easy access and maintenance.
Acrylic substrate shield (comes with every enclosure)
UVB lighting can be easily mounted inside the enclosure
Best for environments with a temperature of around 140 degrees.
Resist up to 70% humidity
Excellent ventilation
Ships flat but the assemble is easy. (requires no tools for assembly)
Easy to take apart
Rubber grommet wire port
30-Days money-back guarantee
FREE shipping
Top of all, a zen habitat enclosure costs only $329 with a substrate shield.
Pros
Featured as our editor's pick for the best enclosure for a bearded dragon
Perfect size for an adult bearded dragon
Front sliding acrylic doors for easy access
3-year warranty
Free shipping
Non-reflective surfaces
Cons
Not suitable for UTH (Under Tank Heating)
One side view
Construction And Assembly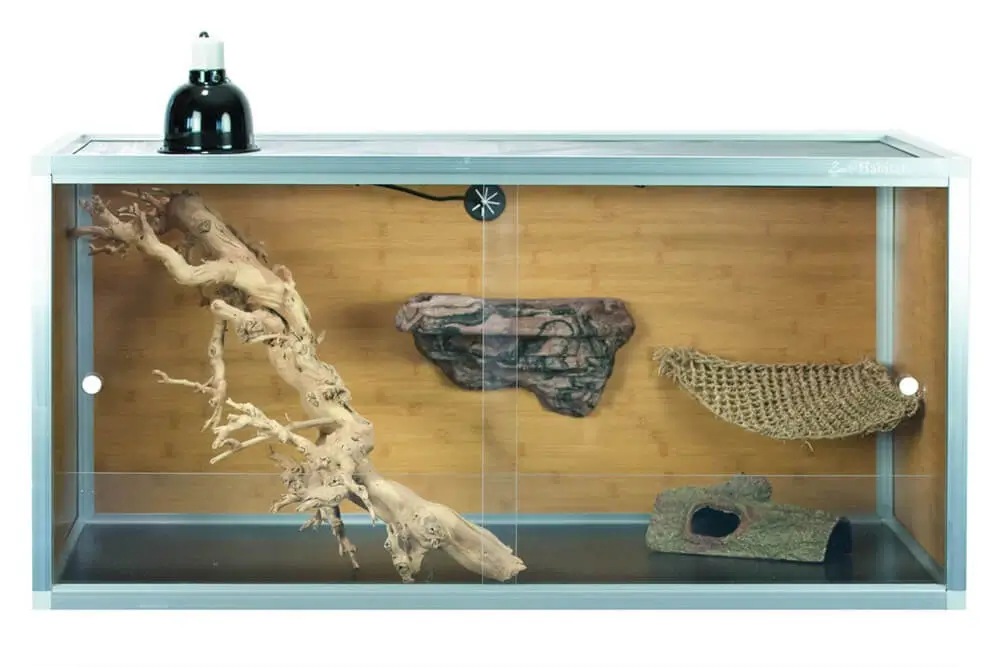 Size of Enclosure
It's a 4-foot by 2-foot by 2-foot enclosure which is 16 cubic feet of living space for your bearded dragon. Compared to a standard 40-gallon breeder tank which is only about six cubic feet of space, the Zen habitat offers significantly larger space for your beardie to run around. See our post on what cage sizes work best for bearded dragons.
Assembly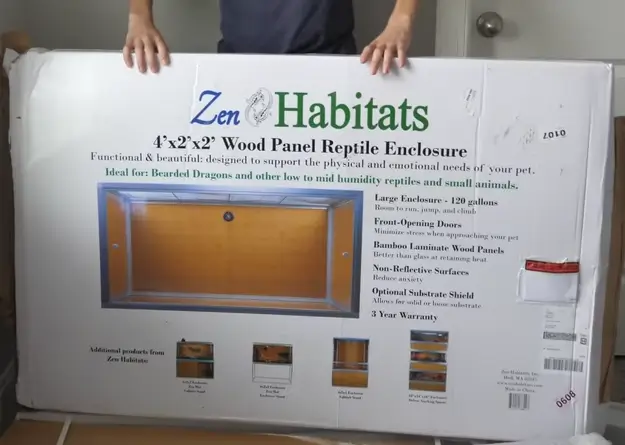 This enclosure ships flat and is fairly easy to assemble. Inside the packaging, you will find 12 aluminium frame bars, a galvanised steel screen top, plastic corner connectors, a bamboo laminate wood composite bottom panel, rear panel, and two side panels, two acrylic doors with door knobs, and a wire grommet that lets power cords pass through.
Putting this enclosure together should be easy for almost anyone who can read the instructions or watch the assembly video on YouTube.
Wooden Side Panels
For sides, they used bamboo wood panels. These bamboo wood panels have a lot of advantages over glass panels. The first benefit of it is it's not reflective. So, if you have a reptile that tends to be aggressive with its own reflection, then bamboo panels would be the best option.
The second advantage of using wooden bamboo panels is that it retains heat ten times better than glass. And third, let's face it bamboo is beautiful which means the enclosure will look beautiful.
Strength and Security
For extra strength and security, the Zen bearded dragon habitat features a galvanized steel screen top. The main benefit of this is that it will not get ripped or torn. It also provides extra security for your reptiles especially if you have a cat or other animal that might jump on your enclosures.
It also has two extra support beams that are not only great for holding up lighting but also provide that extra strength and security against an animal that might jump on top.
Doors
Zen Habitat reptile enclosure comes with two front sliding removable acrylic doors. The best part about the acrylic is it's not going to shatter. This means you don't have to worry about it breaking and injuring your animal on the inside in case of an accident. These doors slide left to right nice and easy, and for easy access to your animal and for cleaning they're removable.
Wire Grommet
In the back of the cage, you will find a wire grommet that allows you to place your lighting either on the inside or outside of your habitat whatever your needs are or however you're looking to set up your habitat.
Loose Substrate Shield
Zen Habitat reptile enclosure also comes with an optional piece of loose substrate shield for those that like to use loose substrate, and don't want the sand or any loose substrate falling out of their habitat. The loose substrate shield is a 6-inch acrylic that will allow you to see your bearded dragon right through it without anything falling out.
Are Zen Habitats good?
Yes, we recommend zen habitat to all of our customers. It's the best cage for bearded dragons in the 120 gallon category on the market. We are 100% certain you will love this cage.
Click here for a list of other top best bearded dragon enclosure.