The optimal home for your gecko is an aquarium or terrarium tank. Glass cages are readily available and relatively inexpensive.
Ideal Leopard Gecko Cage Size
1 Gecko: 80cm x 40cm x 50cm (WxHxD)
2 Geckoss: 100cm x 50cm x 50cm (WxHxD)
3-4 Geckoss: 120cm x 50 (60) cm x 60cm (WxHxD)
5-6 Geckoss: 150cm x 60cm x 60cm (WxHxD)
7-8 Geckoss: 180cm x 60cm x 80cm (WxHxD)
9-10 Geckoss: 200cm x 60cm x 80cm (WxHxD)
A good rule of thumb when purchasing your terrarium is 10 gallons per gecko. So if you have two leopard geckos a 20 to 30-gallon tank will work best.
But remember the bigger the enclosure the better.
If you have just purchased or purchasing a sub-adult – adult leopard gecko you can put them in a larger enclosure but always make sure your aquarium/vivarium has plenty of hide holes depending on how many leopard geckos your keeping they may only use the one but if they don't it reduces their stress.
One leopard gecko maybe being bullied and if you have several hide holes then they can retreat to one but if you only have two and there's 7 leopard geckos they can not go anywhere.
Do not place more than one male per habitat as they will fight. A screened top is also necessary for your tank, as it will not only prevent your gecko from escaping but also prevent any other pets from getting to your gecko.
Make sure you do not use a terrarium too large as it will make hunting for crickets too difficult for your gecko.
Top 5 Best Leopard Gecko Enclosures
There are a number of enclosures and tanks available for leopard geckos in the market, this sometimes makes it hard to choose the right one. But don't worry we are here to help!
Below is a list of top 5 best leopard gecko habitats that will surely not disappoint you and your gecko.
1. 4'x2'x2′ PVC Panel Reptile Enclosure
Features
Ideal for leopard geckos
Huge space (120-gallon equivalent that your gecko would love)
Front doors for easy access
Better ventilation
Retains high humidity
Supports under tank heater
Built-up of durable material that will last for a long time
Easy to assemble (No tools required)3 years warranty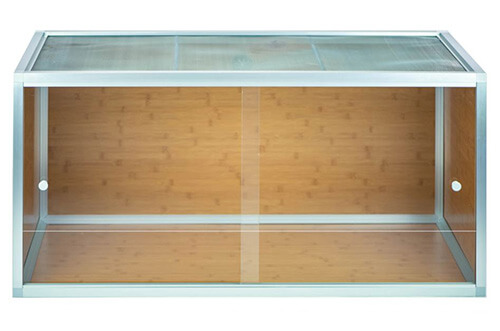 The PVC Panel Reptile Enclosure by Zen Habitats is the perfect enclosure for leopard geckos and many other reptiles that requires a high humidity environment. This enclosure measures 4'x2'x2', which is three times larger than a 40-gallon breeder tank. It offers ample space for your gecko to run about, climb, and exercise. 
Zen Habitats Reptile Enclosure uses bamboo-printed PVC panels that allow for a high humidity environment. The large front sliding doors allow easy access inside the cage and also help in minimizing stress when approaching your pet. 
Leopard geckos are territorial and sometimes do not like their reflection, keeping in mind this, the Zen habitat has made the cage surfaces non-reflective that reduces anxiety. The cage comes with an optional substrate shield for those who use loose substrate.
2. Exo Terra All Glass Terrarium
Features
Ideal for young geckos
Easy to clean
Good ventilation
Prevents loss of heat and humidity
Waterproof bottom
High-quality design
Closable inlets for wires and tubing management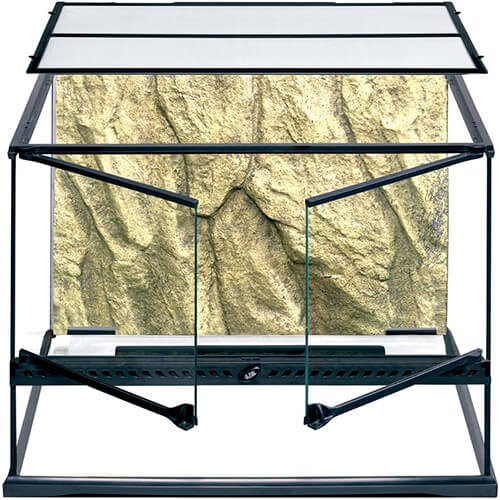 Exo Terra is one of the most popular brands to offer enclosures for all sorts of reptiles and amphibians. Their Exo Terra All Glass Terrarium is one of the best options available for leopard geckos, as it is specially designed for them. 
As this enclosure is made up of glass, it helps in preventing the loss of humidity and heat, thus providing constant temperature and humidity, which is very important for the health of leopard geckos. The patented front window ventilation offers a lot of fresh air all the time.
The cage comes with a raised bottom frame that is specifically helpful in installing an under tank heater if needed. The bottom of the enclosure is waterproof, which means you don't have to worry about any leakage issues. It features two dual front doors that make cleaning of the tank a lot easier.
3. Exo Terra Glass Terrarium Mayan
Features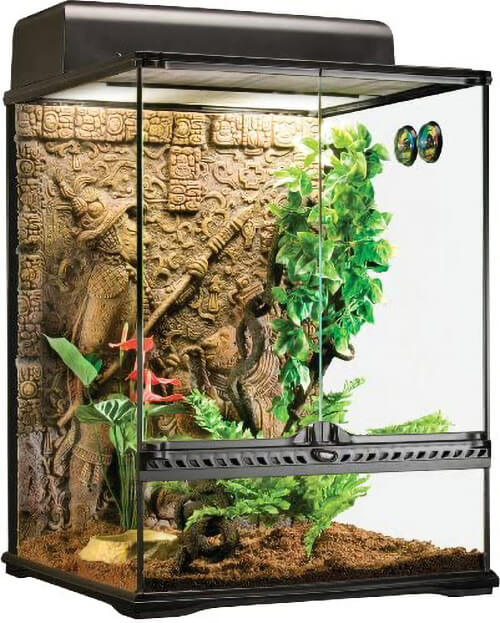 Dual doors for an escape free access
Water-resistant bottom
Front window ventilation for fresh air
Stainless steel mesh cover
Easy-twist screen cover lock
Exo Terra Glass Terrarium Mayan is another excellent option for leopard geckos. It measures 18x18x24 inches offering enough space for your gecko to run about and exercise. You can add a lot of decorating items such as plants etc. to the cage for a more natural look.
This cage features two doors that are specifically helpful in cleaning the enclosure and not letting your pet escape the cage. Moreover, the cage features front window ventilation for providing fresh air and a water-resistant base, which means you don't have to worry about any water leakages. The stainless steel mesh cover will make sure that your pet stays inside the cage.
4. Zoo Med Laboratories ReptiHabitat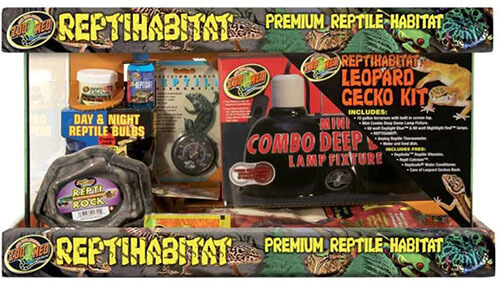 Features
Reasonably priced
Easy to set up
Secure
Easy to maintain
Easy to clean
Includes everything you need for your leopard
If you are a beginner leopard gecko owner, then you might want to start with a leopard gecko kit. But not all gecko kits are the same, some are better than others. If you're going to start with a gecko kit, then we recommend Zoo Med Laboratories ReptiHabitat.
This kit makes caring for leopard geckos a lot easier as it comes with all the necessary things needed to care for leopard geckos.
This leopard gecko kit might not be as durable as other enclosures we discussed in this post. However, it's definitely worth the money. The price is very reasonable, considering all the stuff that comes with it. The kit is straightforward to assemble even for beginner gecko owners. It is also easy to clean and offers fresh air to pets.
5. Zilla Fresh Air Screen Reptile Habitat
Features
Easy to assemble
Sturdy mesh screen
Good security
Waterproof PVC bottom
Allows open-air circulation
The last cage on our list of best leopard gecko cages is Zilla Fresh Air Screen Reptile Habitat. This is one of the best options available when choosing a cage for your buddy that will make them feel right at home. This a durable screen cage that allows for open-air circulation.
This cage is made up of durable material that will last for a long time. It features a PVC plastic waterproof bottom that allows for easy cleaning and makes it easy to install all the accessories inside the enclosure.