A stable and continuous heat source is an essential component of a ball python's terrarium setup. Snakes aren't able to regulate their body temperature without proper heat.
In nature, they have the sun to soak the heat from, but in captivity, when they don't have access to direct sunlight, getting them a heat lamp is mandatory.
Heat lamps are basically a light that's placed on top of your ball python's cage that warms up the cage with the heat that comes from the light.
You also just call them heat bulbs, since they're essentially just bulbs that are screwed into the lamp and heat up the enclosure. Some lamps are designed to reflect light to make the cage even warmer for your snake. Kind of like what the sun does to the ground!
Now, if you just Google heating lamps, you'll find that there are quite a few options to choose from. The variety can be great, but also tends to overwhelm first-time ball python owners that have no idea which one would be best for their slithery friend!
If that sounds like you, don't worry, all of us have been there! In this post, We'll go through the various types of lights and bulbs that are ideal for your snake. By the end of it, you'll know exactly which heat lamp you should get and why!
Best Heat Lamps for Ball Pythons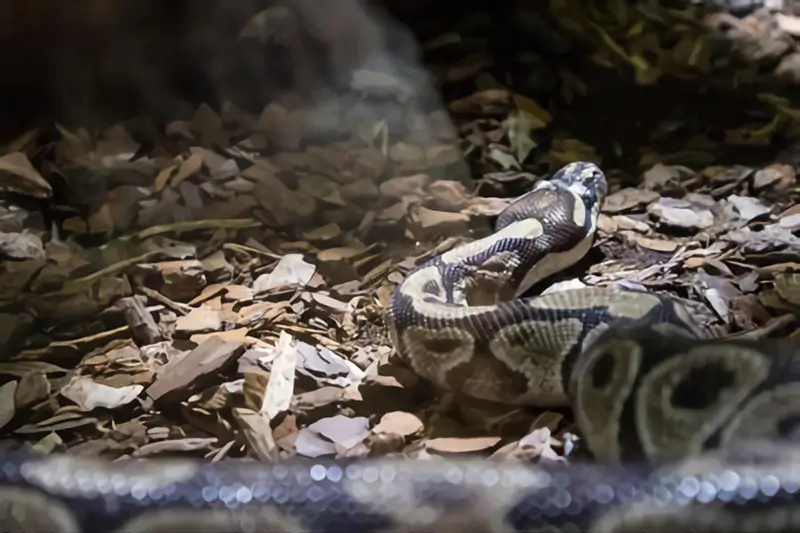 There are many kinds of heat lamps for ball pythons. Every single one comes with its own kind of pros and cons. Choose whichever suits the needs of you and your snake the best!
1. Fluker's Ceramic Heat Lamp for Reptiles
Fluker's Ceramic Heat Emitter for Reptiles
100 watt ceramic heat emitter for ball python habitat
Heat emitters radiate intense infrared heat but emit no light
The perfect 24-hour heat source for your ball python
Easy to use
This is a great ball python heat lamp that will work round the clock. Its big, sturdy white ceramic circular emitter sends the right quantity of ultra-warm radiated infrared heat into your pet's living space, and its element has a 25,000-hour lifespan.
It emits no light, the heat is transmitted through infrared rays which will not disturb your pet's sleep cycle.
Once you've installed it in your python's tank, you'll notice your snake basking in its calming warmth. Because the element offers heat without emitting intense, glaring light, your pet will be able to sleep normally.
The heat light is simple to install. You may connect the lamp to a porcelain socket. To create a more natural habitat, a common "light timer" is accessible at hardware shops and could be used to shut off the heat emitter in the afternoon and back on again in the day.
Pros
The most popular bulb amongst snake owners.
Comes at a very affordable price.
It's made out of high-quality materials.
Easy to install.
It emits no light at all.
Cons
It's not suitable for larger tanks.
Can take some time to warm up.
2. Hoke Flexible Clamp Lamp
Even though hoke isn't a very big company, they've done their research and created a heat lamp that's so good that it competes with the big names! The hoke flexible clamp lamp provides something that most products do not.
The Hoke flexible clamp lamp has a one-of-a-kind design: the lamp's head is linked to an 11-inch flexible arm with a clamp at the base. The head of the lamp can be rotated 360 degrees in any direction you want.
The inside of the reflector has been spray-painted white. This shade could reflect a specific quantity of bulb light beam, allowing the light to be easily concentrated rather than split. This improves the efficiency of light and heat a lot.
You will also have total control over how heat and light are distributed throughout your snake's tank. Because the strong steel clamp has undergone a unique anti-caustic treatment, you can firmly attach the device to any surface.
The heat lamp clamp is extremely versatile but could be used with 120-watt, incandescent, fluorescent, ceramic heat emitters, LED, UV lamps, infrared bulbs, or halogen lights. Because the plug includes a built-in fuse, it can be used safely.
Pros
The lamp head is fully adjustable.
The lamp's inside has been painted white to make it reflect and focus the light to the basking region.
The lamp is authorized for use with all types of heat bulbs.
Cons
The lamp head is tiny in comparison to most other lamps, measuring only 3.6 inches in diameter. It is also fairly short, so most light bulbs will bulge out.
The chord that comes with it is quite short. It's possible that you'll need to buy an extension cord.
3. Zacro Heat Lamp
Zacro Reptile Heat Lamp
Perfect 24 hour heat source foryour ball python
99% high thermal efficiency
Also works in sealed box
Flat-faced design is more efficient and longer lasting than conical design
In addition to being the ideal heating option for a python, lizard, or bearded dragon, the heat lamp may also be used for birds, hamsters, or your old cat. So you can get several uses out of the same lamp, making it great in terms of value for money!
The 100-watt flat-faced black ceramic emitter features a 99 percent thermally efficient infrared element that emits rapid, consistent 24-hour heating and lasts up to 9,000 or 15,000 hours.
Because the zacro heat lamp emits no light, your pet reptile will be able to sleep through the day or night without interruption. Its small dimension of 4.7 x 3.2 x 3.2 inches is ideal for a small cage or a pet's resting place. To ensure safe and effective heating, position the heating lamp far enough away from your pet so that they do not come into contact with it.
Zacro also offers a free digital thermometer with Fahrenheit and Celsius readings. Because a plastic socket may melt the lamp holder or possibly cause the light to explode, the heat lamp must be used with a ceramic E27 11-volt socket.
The thermometer is powered by an LR44 battery, which is included with the heat bulb. The heat bulb is covered by an 18-month guarantee from Zacro.
Pros
The heating lamp is pretty cheap compared to other lamps.
The lamp is very high quality.
It comes with a digital thermometer that has both Fahrenheit and Celsius.
Great for humid temperatures.
Cons
Can't give enough heat if the area is too big.
It can melt the e27 socket if it's made of plastic, so it needs to be used with a ceramic e27 socket.
4. The Bluestone Ceramic Heat Lamp
Sale
The BlueStone Heat Lamp is particularly developed for the specific surroundings of snakes and lizards. Because snakes cannot adjust their body temperature to the environment, a heat lamp will supply your baby or sick snakes with the appropriate degree of heating in cold weather.
Its 99% thermally effective 250-watt infrared heat emitter generates between 0.75 and 1000 microwaves and elevates the temperature to 62.5 to 89.5° Fahrenheit, resulting in a fast and steady heating source in a large tank. Because the heat emitter does not emit any light, it will not interfere with their usual sleeping patterns.
The huge 23.5 x 15.5 x 15.5-inch lamp with a sturdy black ceramic design is ideal for a damp area but not for water tanks. It must be used with a porcelain 110-120 volt socket. You can use this heat lamp for birds, hens, and other sorts of pets too.
Pros
The bluestone ceramic lamp is great value for the affordable price tag.
It's specifically designed for reptiles, but it can be used for other animals like chickens, hens, etc.
This heat lamp is suitable for a wet environment.
Cons
It can't be used in a small cage or area.
It can take quite some time to heat up.
5. Fluker's Sun Dome
Sale
Fluker's Sun Dome Reptile Lamp
Maximum UVB and UVA output to domes with interior white surfaces
Deep Dome Clamp Lamp is specifically designed to accomodate larger or longer bulbs
Dome diameter 8.5″
Easy to use
Fluker's is another well-known manufacturer of reptile items ranging from terrarium equipment to reptile food. They primarily cater to bearded dragons and other lizards, however many of their items are also suitable for snakes.
The Fluker's Sun Dome, like the Zilla dome, is a huge light. It is quite deep and is intended to reflect light and direct it to a specific area of the vivarium. This is ideal for making a "basking place."
When compared to domes with white inner surfaces, the aluminum surface inside the dome enhances UVB and UVA production. The plug on this lamp is polarized, one blade is bigger than the other one. This plug is designed to fit in a polarized outlet just one way to limit the possibility of shock hazards.
Install the light and attach it to the panel top or hang it over the enclosure with hanging objects or screws. This lamp should not be used with ceramic heat emitters or mercury vapor bulbs. Keep the fixture up and out of the way of kids and other animals.
Depending on the application, the lamp and socket could become hot. Check that the power of the bulb being used is appropriate for the size of your cage and fits the requirements of your snake. To guarantee proper temperature in your snake's enclosure, use thermometers.
Pros
It can accommodate bulbs up to 160 watts. It is a great choice if you require a high heat lamp wattage.
It is suitable with nearly any type of bulb, including ceramic heat emitters, and will fit almost every bulb.
The cord has an on/off button, so you don't have to plug and unplug it every time.
Cons
This product is quite expensive if you compare it to others.
Since the lamp itself is very big, you probably can't use this if you have a smaller cage.
6. BYB Heat Lamp
This compact, lightweight heat lamp is really simple to use; simply put it into an appropriate socket and your animals will be able to bask in its soothing warmth.
The 100-watt waterproof element of the BYB heat lamp is adaptive and could be used in a 30-40 gallon high-humidity enclosure. You could even use it as a personal heater or as a natural greenhouse heater to help crops develop quicker and healthier.
The lamp emitter is constructed of anti-crack high-purity pottery clay and provides strong muscle-penetrating heat without emitting any harsh glaring light that might disrupt your pet's normal sleep habits.
Because the lamp has a big circular emitter, it focuses quick and effective infrared heat to enter the scales and soft tissues, encouraging healing by enhancing blood circulation and the enclosure's ambient air.
The BYB heat lamp features a Ni-Cr Alloy resistance wire that provides 24 hours of steady heating and has a 10,000-hour life duration, making it 99.9 percent energy-efficient. It has to be plugged into a 110-120V E26 porcelain socket (E26 socket). You should wait at least 1 hour for the emitter to cool down before you turn it off to avoid burning.
Pros
Perfect for high humidity terrariums; lasts up to 10,000 hours
Non-light emitting heater.
Works great in increasing ambient temperature inside the enclosure.
Cons
Loud metallic clicking noises when turned on.
You might have to bring the bulb closer to your reptile for better heat which can also be dangerous.
7. Aiicioo Heat Lamp
The 60-watt, 100% efficient infrared radiant heat emitter produces a natural sun-like environment with a 24-hour consistent temperature pattern.
The Aiicioo heat lamp is specifically intended to function in high humidity terrariums since it is constructed of high-purity anti-crack ceramic clay. Its flat-faced design also guarantees higher efficiency for up to 10,000 hours.
To avoid overheating, connect the heat lamp to a suitable AC 110-120-volt porcelain incandescent socket. The emitter doesn't glare any light, so it won't interrupt your ball python's sleep.
Pros
Long-wave infrared radiant heat that is 100% efficient and effective
Additionally, the flat-faced design provides improved illumination efficiency for up to 10,000 hours.
Fast 24-hour consistent temperature pattern creates a natural sun-like environment
Good price for the value of the product.
Cons
The temperature could be insufficient for larger enclosures.
It only radiates a small quantity of heat to a distance of 4 to 5 inches.
8. OMAYKEY Ceramic Heat Lamp
OMAYKEY Ceramic Heat Lamp
Made of solid ceramics element
Simple and easy to install
24hr heat source
Perfect for reptiles and amphibians
During the extremely cold winter months, the ultra-effective OMAYKEY Heat Lamp 2-pack delivers rapid heating for your ball python. Your snake will love bathing in the warming heat of the 75-watt infrared element, which lasts 9,000 or 15,000 hours.
This two-pack offers you a lot of options. Use one heat bulb for your snake and the other in your grow tent to produce healthy plants. The 3.94 x 2.95-inch heating light is composed of solid, long-lasting white ceramic. It is straightforward.
Simply screw it into a regular porcelain E27 AC 90-120V socket inside a 40-gallon tank or a comparably sized pet cage. Just use it with a porcelain socket since a plastic socket might cause it to melt. The heat lamp is also offered with a thermometer and in black ceramic.
Pros
The infrared element is both energy efficient and effective.
The heat lasts up to 9000-15,000 hours.
Can be bought with an extra thermometer.
Made from durable white ceramic.
Comes at a low price tag.
Cons
Smaller than what was advertised.
It could melt if you use a plastic socket.
9. REPTI ZOO Heat Lamp Clamp Stand
Sale
REPTI ZOO Reptile Dual Lamp Stand
Attach the heating and lighting device on the top of terrarium and Adjust to suitable height
Suitable for terrariums with height of 11.8in-23.6in
Easy and convenient installation
Includes metal clamp to accommodate most domes
The REPTI ZOO Lamp Clamp Stand is great for terrariums of any size. The sturdy metal lamp clamp support is ideal for cages ranging in height from 11.8 to 23.6 inches. If you have a taller unit, REPTI ZOO comes with a useful extension tube.
You could put one lamp over a small enclosure or utilize both lamp reflectors to hang two lights over a bigger tank because the heat lamp clamp stand comes with sturdy metal clamps. The lampstand does not come with any reflector domes, but it is compatible with the Fluker's 8.5-inch light reflector dome as well as other comparable 8.5 or 9.25-inch domes.
The stand has a foot that slides beneath a tank for added safety and stability on any surface. REPTI ZOO also contains four rubber foot pads for placement beneath a tank if your cage does not have space under the bottom.
The lamp holder stand's user-friendly design allows it to be fitted without the use of tools and is easily adjusted for different tank heights. Just assemble the device with all of the provided parts, position it over the top of your terrarium, and adjust the lights to meet your lighting or heating demands.
Pros
With a height of 11.8 – 23.6-inches, it is suitable for small or big terrariums.
For taller terrariums, an extension tube may be attached.
Installation is simple and user-friendly, with no installation equipment required.
Simple to adjust for optimal heating and lighting
Two powerful metal clamps
Cons
A little pricey
It does not include dome lamp reflectors.
10. LUCKY HERP ReptileMercury Vapor Lamp
LUCKY HERP ReptileMercury Vapor Lamp
A Powerful source of heat and UVA / UVB lighting / visible light
Ideal For A Wide Variety Of Reptiles And Amphibians
Compatible With Virtually All Enclosures
Durable and easy to install
The Lucky Herp pet supplies lamp bulb is a great addition to your ball python's enclosure. If you already have a heat lamp, this bulb is something you should look at. This bulb not only delivers a great source of heat, but it also produces high UVA and UVB levels.
This can benefit not just your ball python, but also other reptiles in your house, such as bearded dragons, chameleons, tortoises, turtles, and many others. It's compatible with a wide range of enclosures, including tanks, terrariums, and vivariums, as well as other sorts of enclosures.
When installing these light bulbs, you will need to experiment with positioning to find the best spot and ideal temperature. Make sure that the bulb will fit in the socket of your heat lamp installation before purchasing. The bulb should be used with a ceramic socket that is standard US size and built to accommodate high-wattage bulbs.
These heat lamps have an estimated lifespan of 800 to 1000 hours, which suggests that if you run them 24 hours a day, they should survive for at least a month. If you just use them for a short length of time each day, you should only need to change them every 90 days.
These heat lamps are also less expensive than some of the more well-known brand name alternatives. This means you can start stocking up on these bulbs so you always have a few extras on hand when it comes time to replace them.
Pros
Can be used with the standard socket.
Comes at a pretty affordable price for great quality
The heat goes up really high.
You can use it with all sorts of enclosures.
Cons
It can take a while before it starts warming up.
Can't be used with dimmers.
Why Do Ball Pythons Need Heat Lamps?
If you're new to reptiles, you might be wondering why it's important to have a heat lamp in the ball pythons terrarium, after all, don't all animals live out in the open, under the sun? Most of them don't really need anything like a heat lamp, then why do ball pythons need one?
Ball pythons cannot regulate their own body temperature. They can't just warm-up or cool down when they want! They need their environment to do that for them! Heat lamps replicate the sun, it heats the air in the ball python enclosure and mimics the natural day and night cycles.
To create a DIY night and day cycle, you can use a timer or manually switch the heat bulb on and off. Both will work great and your ball python will think it's out in the open, without ever leaving the cage!
The timer will also help you to avoid meddling with your pet's normal day and night cycles. When the snake feels like it's in its natural habitat, its body functions will remain the way it would in the wild too. The heat lamp benefits your pet's overall health and digestion.
If the temperature in your home is within the range, a heat lamp may not be entirely essential. However, maintaining the appropriate temperatures at all times throughout the year is challenging, so a heat lamp is a better option because you'll be able to maintain a different temperature for your home and the snake. After all, it's the snake that needs a lot of heat, and humans have different temperature requirements!
What Temperature and Humidity Should it Ideally be on?
It is essential to maintain optimal temperatures in the ball python's tank to to ensure their well-being. You will need to create a temperature gradient.
Ball pythons need a basking spot of about 95° and 105° degrees Fahrenheit (35° – 40° C), and an ambient temperature between 82° and 86° Fahrenheit (28° – 30° C).
The nighttime temperature in the cage should be between 72° and 78° Fahrenheit (22° – 26° Celsius). You have a few alternatives for maintaining warmer temps in the ball python enclosure, but heat lamps are one of the best.
Types of Lights for Ball Pythons
There are a number of lighting systems available for your ball python, namely, Incandescent, Infrared, Ultraviolet, LEDs, Ceramics, and Halogens.
To protect your snake, all heat lamps have a maximum and minimum suggested distance from it that must be maintained.
1. Incandescent Lights or Lamps
Incandescent lights and lamps, such as CFLs, emit both heat and light. However, if they are used inside your python's cage, they can harm your pet.
2. Infrared lamps or lights
The best lights for your ball python are those that emit infrared light. Ball Pythons are able to detect infrared, which is good for them.
3. Ultraviolet Lights
If your snake spends a lot of time in the sun, it won't need a UV light. UV lights only release ultraviolet rays that mimic the snake's natural environment. Lights from Mercury Vapor Lamps are capable of producing both UVA and UVB rays.
4. Halogen Lights
Halogen lights can illuminate your entire home while also providing appropriate heat for your home and your snake's vivarium. So, unless you live in a very cold climate, don't buy it. Dimming a halogen bulb shortens its life, yet not doing so will shorten the life of your pet.
5. Ceramics Lights
As previously stated, ceramics do not emit light. Infrared rays are used to emit heat and block light within ceramic or porcelain sockets. Because infrared lights emit a red light that humans can see.
How to Choose a Heat Lamp
Color
Based on if they are incandescent bulbs, halogen, or ceramic, typical heat lamp bulbs are white, black, or red. A black ceramic bulb can generate more heat than a white ceramic bulb, although this is ultimately determined by the element's quality.
Incandescents are useful for heating and a red light will help with sleep cycles. To avoid melting when using an incandescent light bulb, get a heat lamp with a ceramic socket. Ceramic will not melt if an incandescent light bulb gets too hot and melts the plastic socket.
In general, black bulbs are primarily utilized for reptiles. While white ones are used for warm-blooded animals like chickens.
Wattage
The heating element's wattage would be 60, 75, 100, or 250 watts. A heat lamp should offer enough heat for your ball python, but no more than 250 watts. Based on the size of the cage and the age of the snake, 60, 75, or even 100 watts is excellent for snakes.
Some household light bulbs give off enough heat to heat a tank, but if your tank is bigger, you will need some heat lights.
You should also make sure that the heat lamp is hung far enough away from your snake that it does not come into touch with it.
Socket
Because most heat lamp emitter bulbs are constructed of solid ceramic, a porcelain socket is preferable over a plastic one. Porcelain sockets can resist high temperatures, preventing overheating, which might harm the bulb or produce fumes.
How long do you keep a heat lamp on for a ball python?
We recommend a day/night cycle that is equatorially oriented, with 12 to 12 hours in, 12 to 12 hours off, and a 12 to 12 hour weekend. In the summer, you can leave the lamp on for 12 hours, and in the winter, you can leave it on for 12.5 hours.
Should I turn off my Ball Pythons heat lamp at night?
Although snakes benefit from the heat at night if the temperature drops too low, a heat lamp is not the greatest way to keep them warm once the sun sets. Turn off the heat lamp at night to resemble their natural environment as closely as possible.
Conclusion
Now that you have a better idea of all kinds of heat sources, you are ready to make the choice for your ball python! Don't forget to look for the lamp that fits the needs of your snake and enclosure.
Each snake is slightly different, and the way you have set up their terrarium will make a difference in which heating lamp is the best for them. Always get the right information about the ideal living conditions for your snake according to the specific breed it is from the breeder you get your snake from.
When it comes to ball pythons few different options we've mentioned above, are by far the best ones out there! You're now armed with all the necessary information you might need to make the right decision. Whichever option you end up going for, your snake will be very happy with it!