Iguanas and particularly males can exhibit some aggression and difficult behaviour during breeding season, (Photo above shows orange colouration that is often shown during breeding season) Luckily this is only down to a few weeks a year but it can still pose some problems for owners.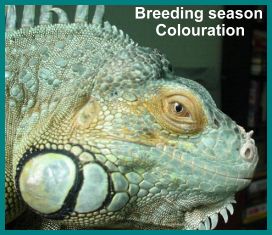 This usually starts during the winter months but can vary from Iguana to Iguana.
Females can start to get restless, seeming to be searching for something, digging and scratching, they mostly do not exhibit the same aggressiveness as males but some do have slight aggressiveness and some can have problems with eggs when gravid, so care is needed at this time whether you have a male or female.
Males also start to get agitated, seeming to be searching for something (probably a female) and will sometimes even latch on to your leg or arm and clench their teeth down while going through the motions of breeding! this can be very frightening for someone who has never experienced this behaviour!..this is where the famous luv socks can be of help.
Luv socks are pretend iguanas, made especially for the male to take out his frustration on..sort of like a cuddly toy but as near to Iguana colour and shape as you can get, throwing one of these on the floor in front of a male Iguana that is in breeding season will usually result in a wrestling match that goes on for half an hour or so..below are some pictures and video's on breeding behaviour and also links to other sites that contain information on this subject.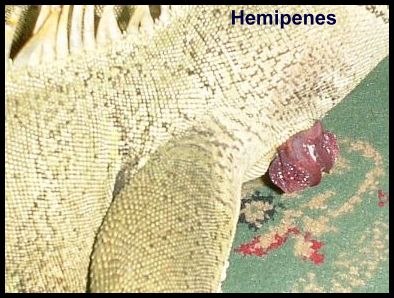 This is the Hemipenes of the male Iguana protruding from the body after sexual activity…Hemipenes meaning the Iguana has two!
This is the toy (Luv Sock) that can help with male Iguana aggression by giving them something to take their passion out on and so saving wear and tear on your arms legs shirts or anything else a male will try to wrestle with during breeding season.

Lastly an item commonly found around male iguanas during breeding season (occasionally at other times too) is a 'Sperm plug' or 'Seminal plug'. These may be found in the bottom of habitats after passing out of the vent, sometimes difficulty in passing the plug can be a problem with the iguana (the picture below is a rather large specimen that my own iguana recently passed) if a problem is encountered this can be helped by a few warm baths to soften and aid the passing of the object. Sperm plugs are a normal part of the season of male iguanas and are just a build up of seminal fluid inside the vent that can be passed during defecation and also occasionally on their own.