Investing in the best bearded dragon thermostat is one of the most beneficial and impactful things you can do for your pet.
If you own a bearded dragon, you know that keeping the right temperature is essential. These creatures require unique and specific settings to grow and remain healthy.
In this post, we have reviewed some of the best thermostats for bearded dragons. We have tried to cover everything, from build quality information to what we like about each thermostat. By the end of our guide, you will be able to pick the best thermostat for your bearded dragon.
Note: Electricity and the use of electrical equipment can be dangerous for both people and bearded dragons. Electrical equipment should only be installed by an experienced person. In some countries, legislation might state that only certified electrical engineers can work with high-voltage electrical equipment.
Quick Comparison of the Best Thermostats for Bearded Dragons
Image
Product
Feature
Price

Best Overall

110V Thermostat Heating Temperature Controller

Featured as our editor's pick
Simple to use
Easy to read display

Check Price

Best for Beginners

110V Temperature Controller Digital Thermostat

Effective
Waterproof sensor probe
Simple to operate

Check Price

Affordable

Digital Heat Mat Thermostat Temperature Controller

Zero-effort set up & operation
Fairly cheap.
Easy start using.

Check Price

Temperature Controller & Pre-Wired Digital Outlet Thermostat

Comes with well-made waterproof sensor
High-quality and durable design
Easy to set up

Check Price
The Best Bearded Dragon Thermostats
Here is the detailed reviews of the best bearded dragon thermostats. The reviews are based on our personal experience with the products and customers feedback on their official websites.
1. 110V Thermostat Heating Temperature Controller
The ITC308 by Inkbird is one of the best thermostats for bearded dragons. They have been in business for quite some time now and have a really great track record.
Setup is easy once you know how all the features and functions work, which you can do by reading the detailed instructions, which are clear, brief, and easy to understand.
Even without the instruction manual, you can set it up. All you have to do is plug it in, set the desired temperature, and hook your heater up to a power source.
Setting it up will not be an issue as long as you can read a chart-style breakdown. Everything is organized into columns, rows, and different sections, and a description is provided of how to do every step.
Since the first installation, I've significantly reduced the stress associated with a bearded dragon's enclosure's temperature becoming too hot during the day or too cold at night.
We tested it extensively during the summer, when the ambient room temperature can quickly rise by a few degrees, and it works flawlessly.
I especially like how the temperature is always shown in bright red on the digital readout. The green light dots flash on and off to indicate whether the power sources are enabled for increasing or decreasing temperatures.
The interface is large, bright, and easily readable from across the room. You don't have to walk over to the device and then press a button to light up the screen to check the temperature, which would be impractical for many people.
This product's temperature control range is also quite extensive. It supports a temperature range of 58°F to 248°F, which is more than what a bearded dragon needs.
We've been using this thermostat for a while now, and we can say with confidence that it works very well as a power regulator for changing temperature conditions.
Pros
Extremely accurate
Easy to set up
Simple user interface
Very safe
Celcius and Feranhite output
Cons
A little more expensive than other options.
2. 110V Temperature Controller Digital Thermostat
WILLHI is an excellent thermostat for general use but also works great with bearded dragons.This is probably the most popular thermostat out there.
This product is also pretty easy to use and set up. Simply plug it in, choose H(heating) or C(cooling), and enter a temperature range.
Based on the customers' reviews, I thought it would be a pain to program. But it seems like they have listened to the customers' feedback and upgraded the instructions.
You will be able to see where to plug in the power cord and the temperature probe. The outlet on the unit feels strong and doesn't make it too hard to plug something in.
It can be mounted to a wall; however, the mounting hardware is not included, which is OK with most people because they will rarely use it.
The way this reptile temperature controller is made, and the materials it comes with are very impressive. It is equipped with a waterproof probe, a high-quality display, and a sturdy body.
It features a bright screen that is visible from across the room. The temperature is displayed either in Celcius or Fahrenheit.
Another noticeable feature in this product is its ability to display "working" to indicate whether the controlled device is active.
It also comes equipped with a high and low-temperature alarm, which may be customized to the desired temperatures or turned off entirely.
Pros
Great accuracy
Reliable safety features
Simple to operate
Bright display
3. Digital Heat Mat Thermostat Temperature Controller
Another good thermostat for bearded dragons is from VIVOSUN. A reputable company that has been producing high-quality thermostats for quite some time.
VIVOSUN Digital Heat Mat Thermostat
Regulates and maintains desired temperature
Components will not rust or malfunction
Easy to use and set up
Comes with a hanging tab and wall mount
When you hold this thermostat, the construction quality immediately stands out. It's built of tough and robust materials that feel almost indestructible. Because it is made of plastic, it is cheap, but the low price should not scare you away. It gets the job done flawlessly.
The installation of this thermostat is simple as well. To use it, all you have to do is plug it in, adjust the probe, and you're good to go! The buttons are pretty easy to understand, and anyone should have no trouble using them.
For the price, this thermostat is excellent and reliable. The temperature is pretty accurate, with only a 1-2 degree difference in some cases. This isn't a big deal for many bearded dragon owners. It never overheats and keeps my bearded dragon warm 24 hours a day, seven days a week.
However, I have discovered a serious defect. The thermostat will sometimes reset to its factory default temperature following a power interruption or surge. Keep an eye on your temperature, and never get too comfortable!
Pros
Fairly affordable
Easy to use and set up
Convenient hanging tab
Cons
Accuracy diminishes with time
The display is a bit hard to read
4. Temperature Controller & Pre-Wired Digital Outlet Thermostat
Another good thermostat option for beardies is from bayite. In the bearded dragon community, it isn't recommended very often for some reason. But we have had a really good experience with it, apart from a few issues that we will explain below.
Bayite Temperature Controller
Plug and play, easy to set
It uses independent heating and cooling toggling points
Comes with waterproof sensor
High and low temperature alarms
This is one of the toughest temperature controls available. It has all the expected functions but is housed in a highly sturdy body. When you hold it, it's hard to think of a way that it could ever break.
One of the notable things about the controller is its waterproof sensor. Its reliable and highly accurate.
This is also a highly safe product. It has high and low-temperature alerts and a power-on delay that reduces load on power sources.
The one issue we had with the previous model is that it would control temperatures from only one direction. Because of the way the programming is set, the device works well for either heat or cold but not both. It was intended for use in situations where you need to manage the temperature from either direction. This item allows you to select a target temperature of X and activate one or both outlets when the actual temperature deviates by Y degrees. You will need two of these to make it work for bearded dragons. One to turn on when the temperature drops and the other when the temperature increases.
Pros
Reliable and high-quality build
Easy to set up
Waterproof sensor
Cons
Kind of clunky
You will need 2 of these
How do Thermostats Work?
A thermostat is like a temperature-sensitive switch. The switch will be triggered when the sensed temperature is different from the desired temperature set on the thermostat. Some thermostats will be manufactured to control heating equipment, others with cooling equipment, while some thermostats will be able to control both heating and cooling equipment.
Types of Thermostats
There are three main types of thermostats: analog, digital, and smart.
Analog
Analog thermostats are the most basic type. They have a dial that you can turn to set the desired temperature. While they are simple to use, they can be less accurate than digital thermostats.
Digital
Digital thermostats are more accurate and allow for more precise temperature control. They have a display screen that shows the current and desired temperature. These thermostats can also have additional features such as a timer or temperature alarms.
Smart
Smart thermostats are the most advanced type. They can be controlled remotely through a smartphone app and can even learn your temperature preferences over time. They are also energy efficient, as they can turn off the heating element when it is not needed.
Using A Thermostat In A Bearded Dragon Enclosure
The most common type of thermostat used for bearded dragons will control the heat source, e,g, a basking light. These thermostats will function by switching the heating equipment on when the sensed temperature drops below the desired range. In other words, for example, if the desired temperature is 30 °C / 86 °F and the environmental temperature is 20 °C / 68 °F, the thermostat will be switched on until the desired temperature is reached.
Not all thermostats will be able to handle the same temperature range. Although many choices are available today, the most important requirement for a Bearded dragon thermostat is that it must maintain the recommended temperature range of 40 ºC / 105 ºF. For this reason, the best choices will often be available from specialized/reptile-friendly pet shops. Certain thermostats can also be used for Bearded dragon incubators.
Bearded Dragon Thermostate Buying Guide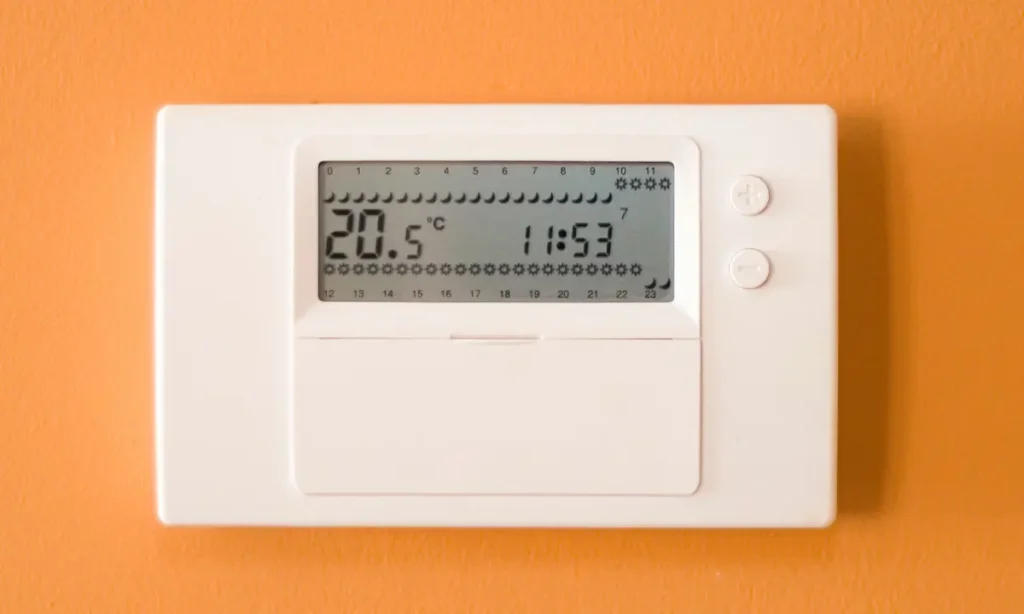 There are a wide variety of thermostats available for beardies, but all of them are made the same. The best bearded dragon thermostats will have many things in common.
Safety
First and foremost, your reptile thermometer must be safe.
There are several techniques to evaluate the safety of a heat-controlling device. First, it has to be a reliable, well-made product that won't break down or catch fire on its own.
Maintaining an accurate and consistent temperature is also a major safety concern. A serious risk to your pet's health is if your thermostat generates severe temperature swings.
Multiple Heating Equipment
If you have a more complex heating system with various components, this may also affect your choice of the thermostat. Some thermostats can only control a single heater. Therefore, you will need many thermostats or one that can control multiple heaters simultaneously.
Temperature Range
All of the top bearded dragon thermostats have a wide temperature range that is enough for most owners. But a wider range is often a good thing. This means that the temperature controller is a bit tougher, and your small heating requests won't be a problem.
Use
One last thing to think about before buying a reptile thermostat is what kind of device it will be used to regulate. Some of them can only be used with a heating pad, while others can be used with lamps and other things.
Depending on how you have things set up, you might have to choose between two products that don't work well together.
Conclusion
Thermostats are handy tools to help you control the temperature inside the bearded dragon cage. There are a vide rang of thermostats available for beardies on the market. But not all of them are made the same. The best bearded dragon thermostat will be safe, durable, and easy to use without getting too expensive.