Blue tongue skinks require special care and attention in order to thrive. One of the most important factors in their care is the cage they are kept in.
A proper cage can provide your blue tongue skink with the necessary space, security, and comfort it needs to live a happy and healthy life.
The best blue tongue skinks enclosure should be spacious and secure without breaking the bank. The best enclosures will also be well-ventilated, able to withstand heat, and durable.
Finding the best enclosure for a blue tongue skink can be hard. They range in price, design, safety, and durability. Blue tongue skinks kept in the wrong enclosure can suffer from higher stress and injury.
In this article, we give our review on the four best blue tongue skink enclosures. We review each cage in detail and discuss what we like about each cage. By the end of our guide, you will be able to pick the best enclosure for your blue tongue skink.
A Quick Comparison of the Best Products
Image
Product
Feature
Price

Best Overall

4'x2'x2′ Original PVC Panel Reptile Enclosure

Best size cage
Non-reflective walls
3 Years Warranty

Check Price

The Strongest

Essential 4 PVC & Aluminum Enclosure 2.0

The strongest cage
Good looking design
Custom ventilation

Check Price

Best for Beginners

Carolina Custom Cages Terrarium 48x24x24

Spacious for the skink's activities.
Easy to assemble.
Waterproof base.

Check Price

REPTIZOO Large Glass Reptile Terrarium

Sliding doors
Locking mechanism
Well-ventilated.

Check Price
Best Blue Tongue Skink Enclosures
Here are the detail reviews of the best blue tongue skink enclosures. The reviews are based on our personal experience with the enclosures and the feedback of their official websites.
1. 4'x2'x2′ Original PVC Panel Reptile Enclosure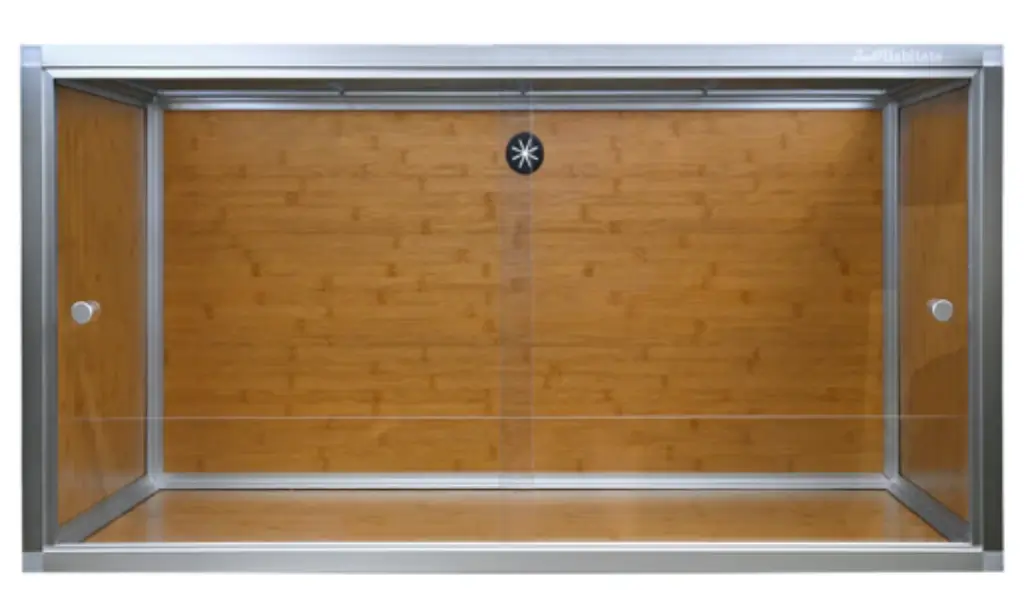 The 4'x2'x2′ Original PVC Panel Reptile Enclosure from Zen Habitats is an ideal enclosure for all the blue tongue skink species and many other reptiles such as bearded dragons and ball pythons.
With a glass and PVC panel construction, the Zen Habitats Reptile Enclosures are best for desert setups, maintaining humidity levels below 50% and retaining heat levels inside the enclosure. The composite PVC allows for flexible humidity levels, 0-100%.
This enclosure features front-sliding removable acrylic doors that allow you to approach your pet in the least stressful way. Approaching your pet from above will stress them out because they will perceive you as a predator.
Bluetongue skinks are territorial creatures and fight their own reflections if they see one. Keeping this in mind, Zen Habitat has done a great job by making the surfaces non-reflective which helps in reducing anxiety in your pet.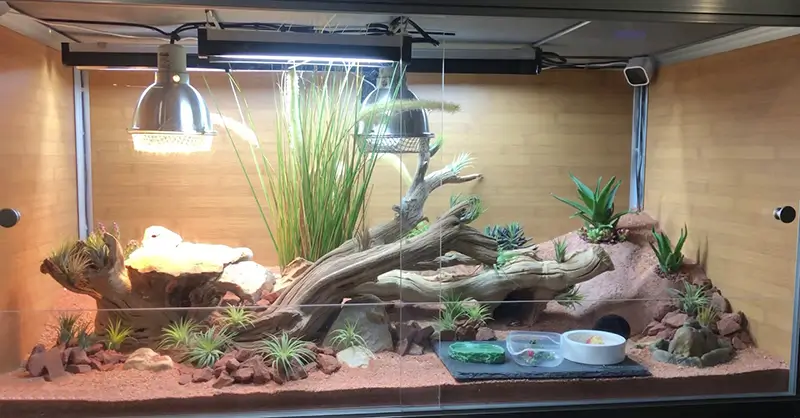 The giant size of 120 gallons provides ample space for the skink to run, jump, and climb. Buying a larger enclosure from the beginning will save you a lot of money. Because if you start with a smaller cage, you will have to upgrade in a matter of months as blue tongue skinks grow really fast.
This enclosure comes with a strong steel screen for security and durability. It also comes with support bars that allow you to install multiple lighting heating options.
The enclosure is shipped flat but the assembly is fairly easy. It comes with a three-year limited warranty and is shipped free of cost.
Specifications
| | |
| --- | --- |
| Type | Extra-Long |
| Dimensions | 4'x2'x2 ft |
| Volume | 120 Gallons |
| Weight | 48 lbs |
Pros
Best cage for blue tongue skinks in the market.
Wooden panels to retain heat and humidity levels below 50%.
The smooth surface of the panels makes it easy to wipe down and disinfect.
Lightweight and easy to move
Non-reflective walls
Flat-packed for easy shipping.
2. Essential 4 PVC & Aluminum Enclosure 2.0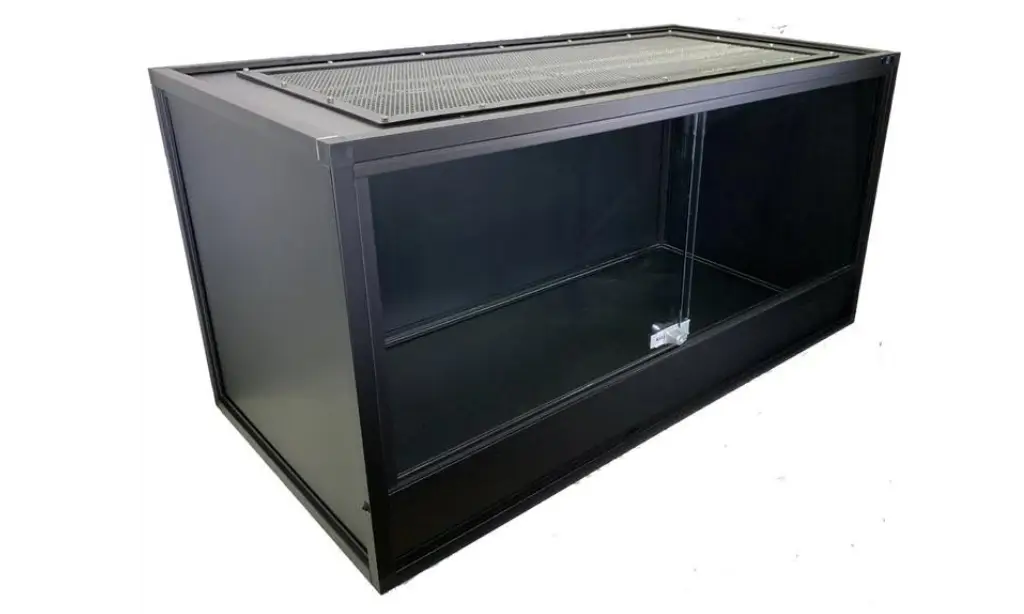 Maximum Reptile has made a beautiful line of enclosures for reptiles that are not only made with their needs in mind but also look great in your home or office. Maximum Reptiles is a reputed company in the US, with over 40 years of experience in designing and making reptile enclosures.
Made from real PVC & super strong Anodized Aluminum & Glass making it one of the strongest and most durable enclosures for blue tongue skinks. The cage weighs around 62 pounds and is equal to a 120-gallon space providing ample space for your pet to exercise.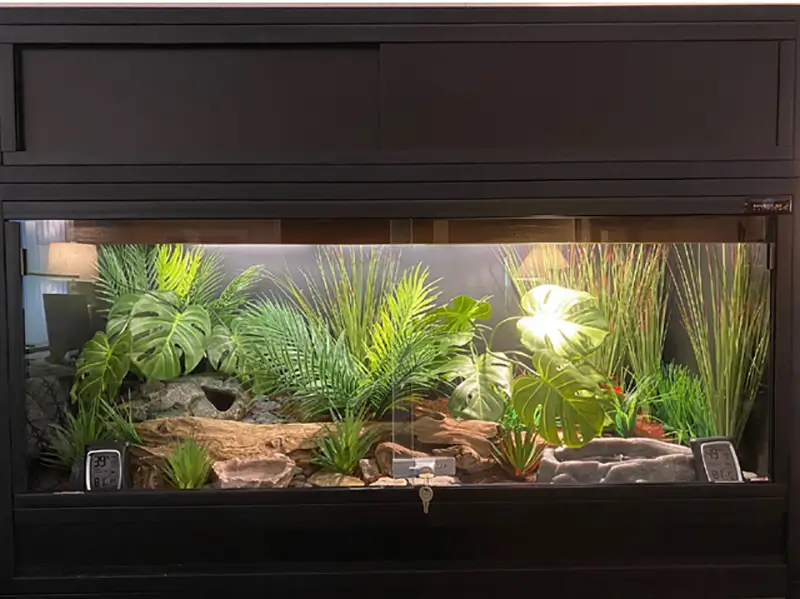 This tank is designed to install lighting and heating fixtures on the outside of the enclosure which minimizes the risk of injuries and burns.
It comes with a full aluminum screen that lets a lot of fresh air inside. The sliding doors are made from crystal clear 1/4 inch tempered glass that won't scratch or discolor over time with a big viewing area. Maximum Reptile offers 10 years warranty on all their enclosures.
Specifications
| | |
| --- | --- |
| Type | Large Deep |
| Dimensions | 36Lx24Dx18H |
| Volume | 120 Gallons |
| Weight | 62 lbs |
Pros
The strongest cage on our list
Good looking design
Comes with a customizable humidity panel
Custom ventilation system for airflow control
Fully waterproof, making it a great choice for outdoor installations or areas prone to water exposure.
3. Carolina Custom Cages Terrarium 48x24x24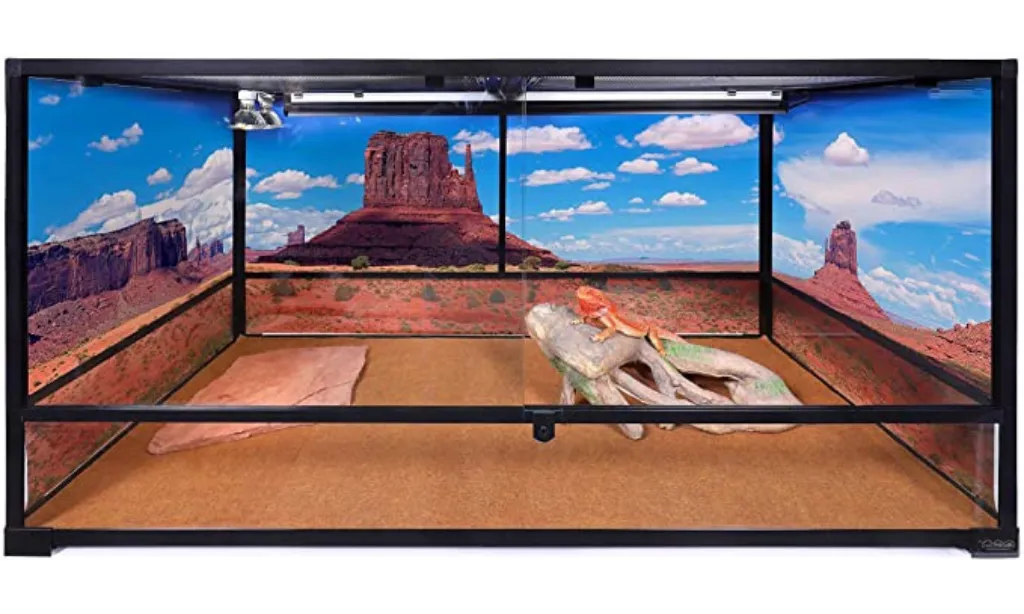 Another great option for my blue-tongued skink! Inexpensive, very easy to assemble, and spacious! Not not a great winter enclosure, but for the mild weather it's perfect.
It comes in 21 different sizes, and models and all of them have a waterproof bottom. For blue tongue skinks, we recommend picking the "Extra-Long" 48x12x18 inches even if you are starting with a baby.
This blue tongue skink enclosure features two sliding doors with a locking mechanism, which keeps the bluey secure from intruders such as cats and dogs. Owing to the sliding doors, these cages are easy to clean compared to other options.
The cage is pretty easy to assemble. The only problem I had was with sliding doors. I just wish they had labeled them ABCD to easily know which door was which but I eventually figured it out.

Specifications
| | |
| --- | --- |
| Type | Extra-Long |
| Dimensions | 48Lx18Dx18H |
| Volume | 120 Gallons |
| Weight | 73 lbs |
Pros
Ample space for blue tongue skinks to move around and explore.
Made with high-quality materials.
The terrarium can be easily modified with different décor and accessories.
Good ventilation to keep the air fresh and promote healthy living conditions.
Removable bottom tray that makes it easy to clean and maintain.
Sliding doors and locking mechanism.
Cons
The Carolina Custom Cages Terrarium may be out of budget for some consumers.
The cage is quite heavy, making it difficult to move or relocate.
4. REPTIZOO Large Glass Reptile Terrarium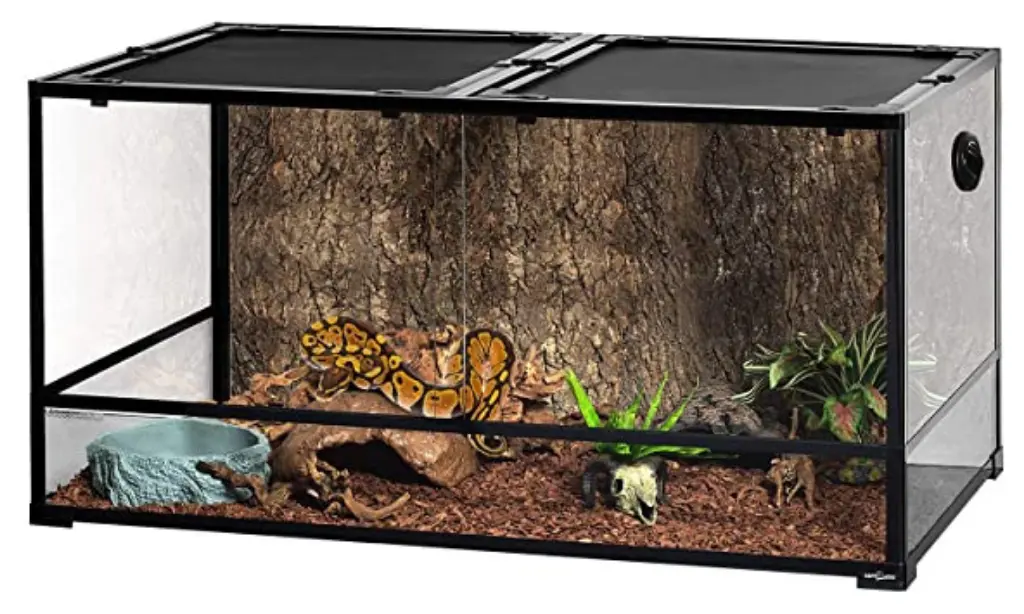 Another good blue tongue skink enclosure option to purchase for your bluey is Repti Zoo Large Terrarium. Made from high-quality tempered glass to improve safety with a tough screen top that ensures the best UVB penetration and ventilation.
This glass terrarium has a raised waterproof bottom which works great with a substrate heater.
This cage is ideal for humid and damp environments and provides excellent viewing.
The thick glass walls, sliding doors, and locking mechanism make it a safe choice to keep your bluey. It also has ventilation windows on the sides to allow airflow, maintaining the humidity inside. These tanks are easy to clean because of the sliding doors and allow easy reptile handling.
Specifications
| | |
| --- | --- |
| Type | Extra-Long |
| Dimensions | 48″ x 24″ x 24″ |
| Volume | 120 Gallons |
| Weight | 90.8 lbs |
Pros
Waterproof base to prevent damage.
Sliding doors, locking mechanism for ultimate security.
Has a slide-out tray for easy cleaning and maintenance.
Well-ventilated.
Thick glass walls.
Cons
Assembling this enclosure could get challenging.
Buyers Guide: What To Look For In A Good Enclosure For Blue Tongue Skink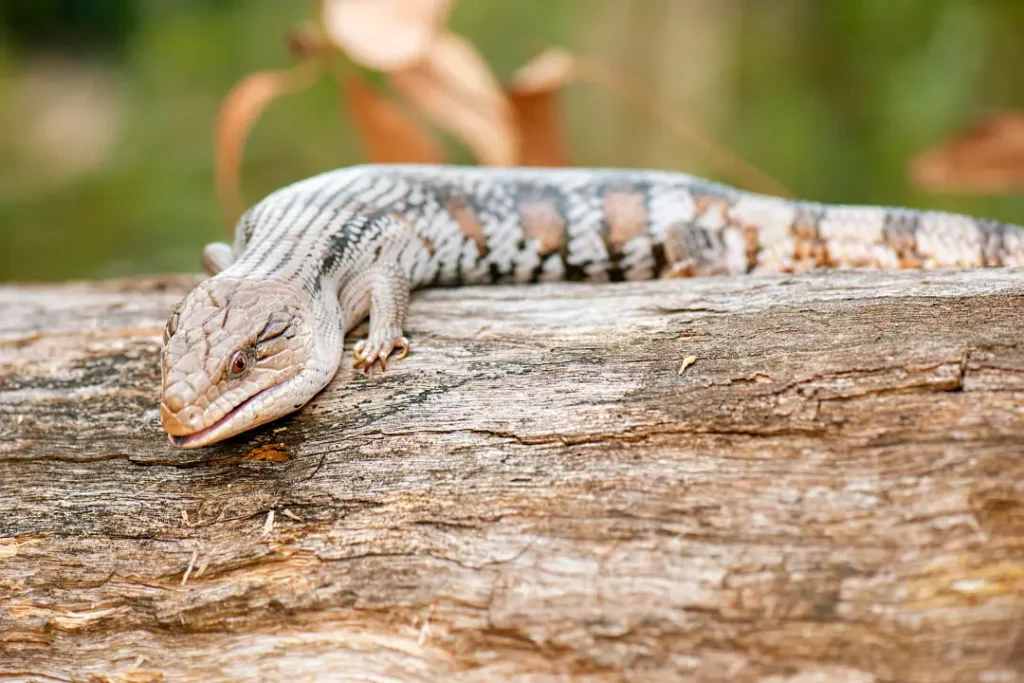 Having a good enclosure is crucial for the health and happiness of your pet. It's important to do your research and invest in a quality enclosure that meets all of your skink's needs. But what should you look for in a good enclosure for your blue tongue skink?
Blue Tongue Skink Cage Size
The size of the enclosure is the most important factor to consider when choosing the best en. An important thing to know while searching for a perfectly-sized cage is to find one with a greater length than height, as blueys tend to grow in length rather than height.
You will need 20-40 gallons for baby blue tongue skinks.
For juvenile blue tongue skink, you will need a 40-50 gallon tank.
An adult blue tongue skink requires a minimum of 8 sq ft of floor space or 120-gallon or a 48″x24″x18″ enclosure. Skinks are extremely active reptiles and love to explore, so bigger is better.
Even baby blue tongue skinks can be kept in an adult-sized enclosure as long as you provide them with enough hiding places to help them feel secure.
Most blue tongue skinks reach adulthood between 18 and 36 months, however, this can be considerably shorter. As a result, purchasing a smaller terrarium for your newborn or juvenile blue tongue skink may be a waste of money, as blue tongue skinks grow quickly.
Blue tongue skinks can grow up to two feet depending on the species. So, Instead of buying enclosures progressively as your pet grows, we recommend getting a large tank from the beginning.
Vivarium Materials
The enclosures are manufactured in different materials, including PVC, wood, glass, and melamine. Choose the material wisely to support bluey's daily activities.
Budget
Do not fall for exorbitantly priced blue tongue skink terrarium, as they might cost you an arm and a leg and sometimes be a disappointment. Take heed that you must proceed to buy a cage after reading reviews from customers who've already used the enclosure; it'll help you get the best under your budget.
Durability
Be mindful that sometimes the enclosure may be exposed to rigorous activities of the bluey, for which you must ensure to get a durable one. A good blue tongue skink cage would last till the end of the bluey's life.
Front Sliding Doors
Front opening tanks are often preferred for blue tongues and many other lizards, it can make it easier for you to get your pet in and out. Having sliding doors in the enclosure will make it easier to handle the bluey, and set up heating lamps, and lighting bulbs. It'll also provide ample space for cleaning the enclosure and changing the substrate.
Ventilation
Maintaining a semi-desert environment in the bluey's enclosure is essential for keeping it healthy and happy. It can be done by providing proper ventilation inside the tank, a mesh top, or having some vents somewhere on top of the tank will do the needful.
Warmth
Being cold-blooded reptiles and with an origin in hot and warm areas, blue-tongue skinks also require a similar setup in captivity. You need to install heat lamps to provide enough warmth inside the tank to keep the blue tongues healthy and happy.
UVB lighting
In the wild, blue tongues get all the required nutrients from the natural UVB light of the sun; however, during captivity, you must provide UVB lighting, which is essential for calcium absorption in the skink's body.
Blue Tongue Skinks Enclosure FAQs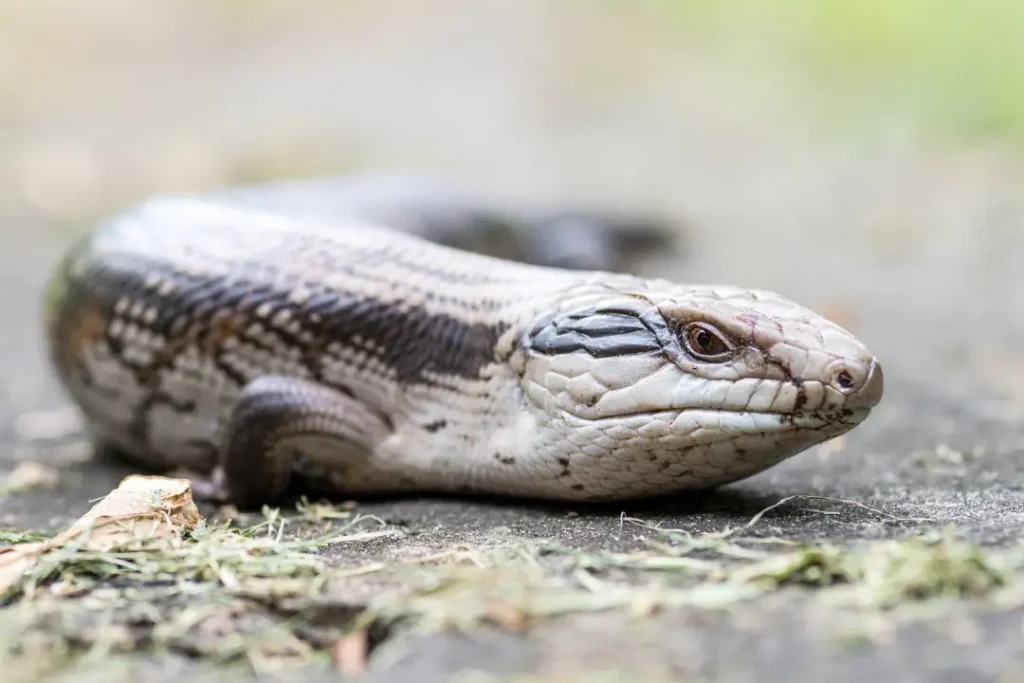 How Big Of An Enclosure Does A Blue Tongue Skink Need?
The size of a blue-tongue skink depends on the age and species you're planning to purchase. For baby blue tongue skink, you will need 20 to 40 gallons. For juveniles, you will need a 40-50 gallon tank. For adult blue tongue skinks, we recommend a 120-gallon tank.
What Is The Best Size For A Blue Tongue Skink?
The skinks need to move freely in the tank and have a basking and hiding area. So, the ideal tank size for a blue-tongue skink is 48"x12"x18" or 120 gallons.
What Do You Put In A Blue Tongue Skink Enclosure?
The list of essentials that you must add to the bluey's enclosure is; the basking log, hiding spot, water, food dish, water dish, artificial plants, heating lamps, UVB lights, hygrometer, ceramic light fixtures, and thermometer.
Can A Blue Tongue Skink Live In A 40-Gallon Tank?
Yes, 40 gallons is the minimum size requirement of a blue-tongue skink's tank. However, it's best to get a 120 gallons tank to create a more relaxed environment.
Do Blue Tongue Skinks Need Heat At Night?
No, the blue-tongue skinks do not need heat and light at night. It's suggested to drop these parameters so as not to disturb the skink's sleep cycle.
Conclusion
Finding the best tank for your bluey can get challenging and overwhelming. Reading reviews and articles about the best enclosures can help you land on the most suitable option for your bluey. Be sure not to fall for exorbitantly priced options as a beginner; it's suggested to opt for a more affordable tank to find the best option.
Finally, the size of the tank and the parameters inside must be set as per the age and species of the blue-tongue skink that you have. Inappropriate cage size, heat, and humidity can disturb your skink, which may result in stress and ailments linked to it. So, if you're looking for the best option for your skink, you can never go wrong with the aforementioned tips.
Good luck creating the best habitat for your bluey!